04 / Black Almanac
Medialab Matadero, Madrid
Synergetic Banquet
October 2022, Supper Club
The Synergetic Banquet brings to life several ideas from the black almanac book through a performative installation. It also serves as a platform for collecting ideas and reflections that have been developed throughout the week in the Cooking Earth activities program curated by the
Black Almanac
collective.
The menu was conceived as a journey through the future practices outlined by Black Almanac in their essay "Cooking Earth."


Hydroponics, algae, fermentation, alternative proteins, and genetic modification served as the foundation for a menu that envisioned the future of a global food system.
The installation, constructed using a scaffolding system, draws inspiration from the ongoing evolution of modular infrastructures, as seen in the history of the Factory Kitchen.


It is presented as a pseudo-canteen, depicting a potential future scenario, and is designed to be functional and flexible, capable of adapting to the needs of the production system.

The scaffolding is rented to ensure the before and after life of the material, avoiding the generation of unnecessary waste.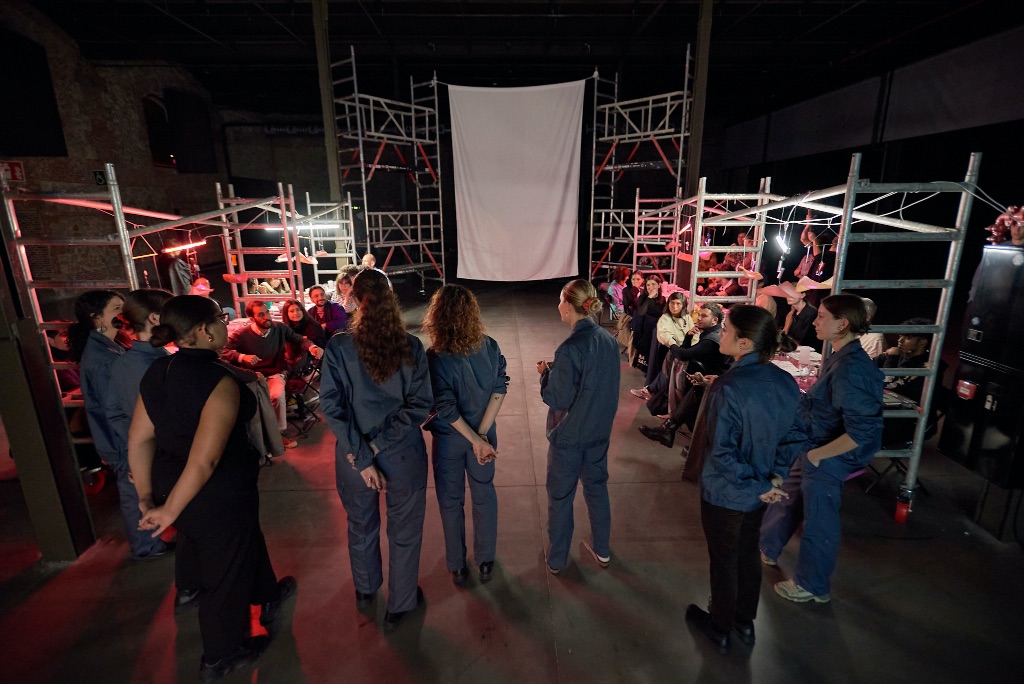 The reduced use of land, the diversification of the origins of our food, the automation of processes and systems – these are some of the guidelines that will potentially define the agri-food industry of the next half century. It is crucial that we redefine what is considered edible, and through neuro-gastronomic processes install a new gastro-epistemology adapted to the survival of the planet, and in it that of the non-terra-predatory human being.


Blurring the differentiations between natural and artificial, local and global, raw and processed, we developed a human-hummus prototype in a post-artificial context.

This performative installation questioned many of the preconceptions we have about what we consume.

The materials used for the performance are strategically located between desired proposals and existing possibilities, a limbo in which legality, science, and agrilogistics converge. Processes such as fermentation and germination, alternative cultivation techniques such as hydroponics, and the reconfiguration of what we understand as a viable and desirable resource will be central in the development of the action.

About Black Almanac
---
Black Almanac is a speculative design-research platform that sees artificiality, alienation, and desire as key ingredients in the transformation of the global food system. Initiated in 2020 by Philip Maughan, Andrea Provenzano, and Nikolai Medvedenko, the project brings together concepts, tools, case studies, and people for whom equitable, nutritious, ecologically sustainable and joyful cuisine is the minimum viable requirement for food in the century to come.
Menu
Hydroponics: White asparagus mousse dipped in green asparagus gel Endive soufflé covered with soil.
Paired with verdejo grapes cultivated in Albariza soil, fermented on lees in Montilla Moriles (Córdoba) by Bodega Robles.

Geophagia: Maltified lentil + insects dosa, fermented cream, mushrooms, pine caviar.
Paired with Montrubí & Sumoll grapes cultivated in calcareous-clay soil, fermented in old barrels, skins and autochthonous yeasts in Penedés by Gaintus Radical.

Fermentation: Celeriac confit with fermented garlic - honey - pepper sauce, pickled onion and preserved lemon gel.
Paired with Sumoll & Montrubí grapes cultivated in calcareous soils in Penedés, ancestral single fermentation in Sumoll.

Terra Preta: Kolhrabi marinated in seaweed soil, smoked with dinner's waste , fried seaweed, fermented bean cream.
Paired with PX grape cultivated in Albariza soil, fermented in Solera in Montilla Moriles (Córdoba) by Bodegas Robles.

GMO: Scoby candy, nectarine veil.
Paired with Furmint & Hárslevelü grapes cultivated in volcanic soil, rotten and fermented in Tokaj (Hungary) by Harsanyi Winery.

Assistants: Irene Merinero, Katie Vilate, Marina Jerez Bread by El Horno de Babette



Other Projects

---
09 / Ivana de Vivanco
The Ryder Projects
September 2023