01 / Esther Merinero
FONDO Studio, Madrid
Portales
May 2022, Supper Club
Curatorial
---
The possibilities within our present conception of reality seem to have exhausted themselves. The cannibalistic structure of the system we inhabit is moving towards the end, and all we have left is to hold on tight. Yet there is some hope in the apocalypse.


Cracks are opening, portals are opening. What if the possibilities were not ahead, in the future, but scattered to the sides?

Time and space overlap, physically coexist at the atomic level, the multiverse coexists in layers like a mille-feuille. Parallel realities crowd around us, full of impossibilities. We are then left to cling to the improbable, to blindly believe in the leap into the void, fall full of hope. We are left, in the words of the philosopher Federico Campagna, magic.


Menu
---
For our very first synesthetic menu, we were deeply inspired by Esther's work and words when talking about her sources of inspiration. An oil puddle in the street that reveals a rainbow, personal objects that she keeps in her pocket as memories.


A reality that is dismembered into magical layers inspired us to create the menu. Vibrant colors, glossy textures and organic shapes took over.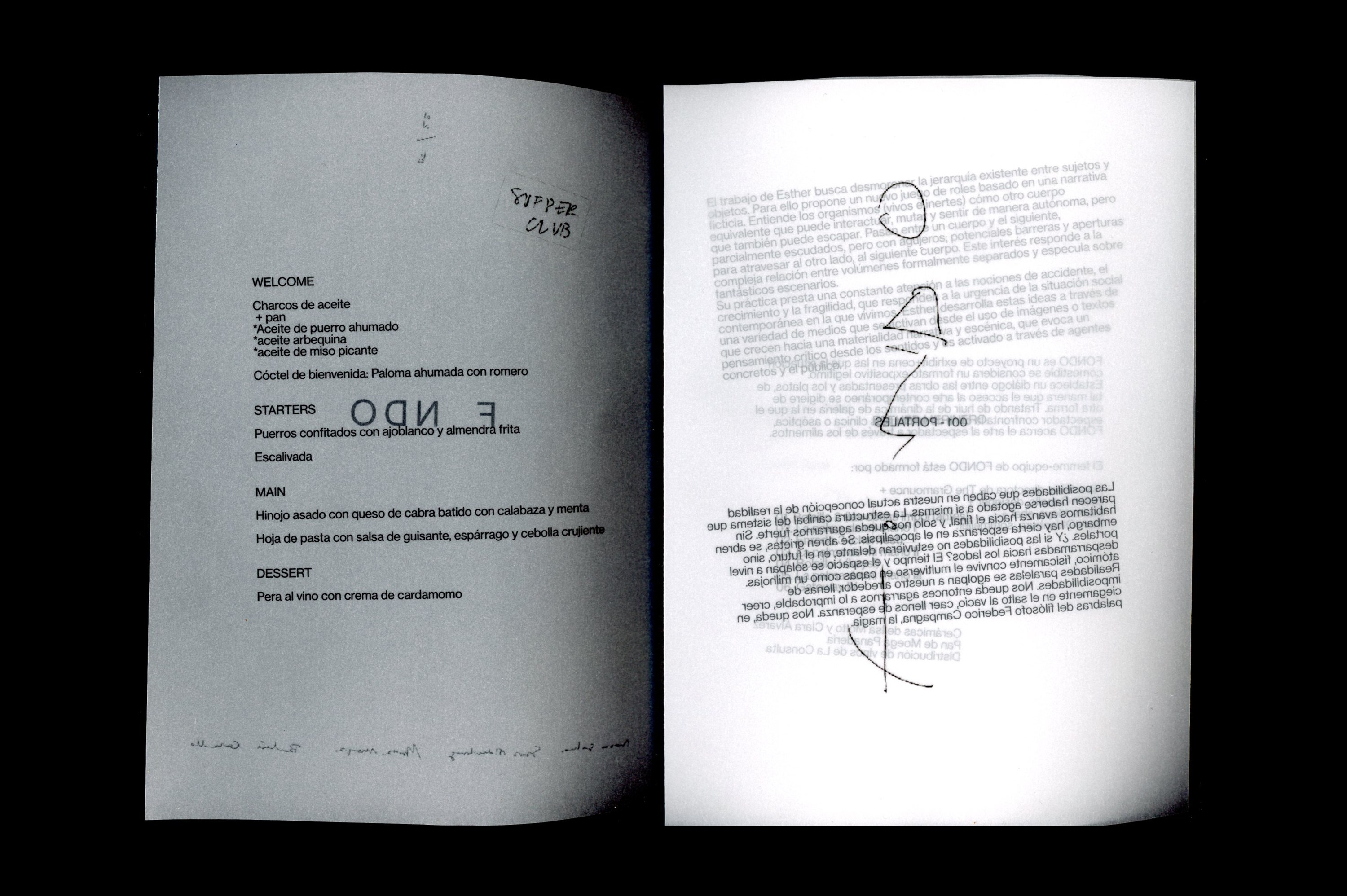 Artist's statement
---
Esther Merinero's work delves into a series of notions that belong to a very specific moment of contemporary life: nostalgia, loneliness and the will to connect, to grow out of oneself, but also survival and potential. The contrast of these emotions with a world mediated by over exposure, uncertainty and fear make the base for a constant combination of hard and soft materials - moments of desire and fluidity often locked up under structures of protection or security.
Her work often parts from a paradoxical assemblage of subjects and intensities; encounters between soft bodies and constraining structures. Objects that belong to the urban context and daily life acquire human behaviours and autonomous gestures, while coexisting in the same universe with dreams, magical spells and potentiality. A car accident becomes the starting point where destroyed mirrors and bollards recover their own agency. Holes, flaws and cracks give space for life to leak in. A stain of oil on the road is possibly a door to another world.
https://www.esthermerinero.com/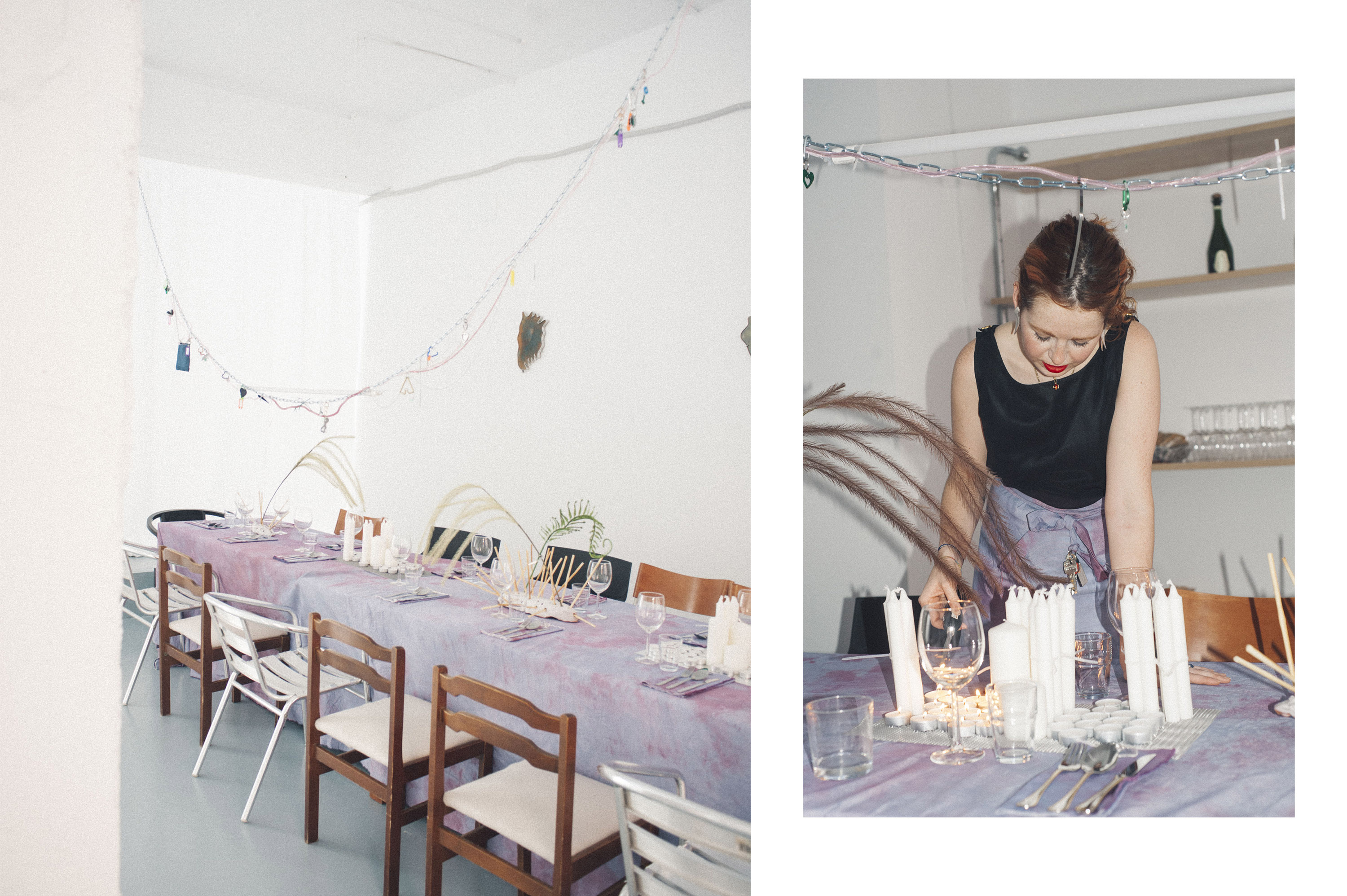 Menu

Welcome: Infused oil puddles with sourdough bread + rosemary smoked Paloma

Starters: Confit leeks with ajoblanco and fried almonds, paired with Orange Methodic.

Escalivada, paired with L'Ancestral de Montrubí.

Main: Roasted fennel with whipped goat cheese, pumpkin and mint, paired with Macerado by Honorio Rubio.

Pasta sheet with green peas and asparagus sauce, crispy shallots. Paired with Gorgs Mas Estela.

Dessert: Wine poached pears with cardamom cream. Paired with Hoppa Furmint dry.

Assistants: Christina Zampoulaki, Irene Merinero, Claire Gallaudet
Photos by Irene Baqué
Ceramics by Clara Alvárez and Isabel Molto.
Bread by Moega Bakery



Other Projects

---