05 / Javier Montoro
Pradiauto, Madrid
Underbelly
December 2022, Supper Club
Related to Javier's work, which explores critical concepts such as casings, exteriors, and revelations, some of the plates in the menu feature covers that hide what is underneath, creating an element of surprise.

Another crucial idea incorporated into the menu is textiles, with vegetables and recipes interwoven with fabrics, resulting in unique textures and flavors.

The human body, particularly its softness, is also central to the dining experience, with contrasting textures used to emphasize this aspect throughout the meal.

The menu

---
The menu features an array of dishes, including custards, creams, and poached vegetables, accompanied by pungent pickles, rich sauces, and crispy covers. The culinary journey begins with a hanging flatbread and dips, followed by a leek dish with beurre-blanc, and ending with a delicate meringue dessert adorned with preserved fruits.


The color palette of the dishes is carefully curated to match the exhibition's theme, with tans, creams, and whites predominating.
The installation
---
The installation features an imperial, communal table that emulates the intricate fabrics of the artworks. The tablecloth is manipulated with an underlying structure to create individual eating spots for guests.

A system of yellow bulbs emerges from the table, replacing traditional gallery lighting and casting a tinted hue over the entire dining experience.




"Soft is that which disappears and which we can only intuit or deduce, forcing us to speculate and elaborate fictions based on the solid elements of which we do have a tangible material reference: those fossils or residues of past cultures and historical times."
Artist's statement
---
Both in his paintings and sculptures Javier combines plastic interventions and industrial applications with digital processes such as data-bending, the capture of aberrations in the decoding of images and the distortion of established visual codes, either manually transcribed onto the canvas or informing a new object. Grids, stripes, and fractions of flat colours derived from computer-generated motifs are interspersed with adhesive tapes, digital prints, and drawings, combining automatism with the concreteness of geometric abstraction. The communicative and suggestive intention insinuated by the geometries and bright colors is suspended by this composite state, blurring the line between imitation and play.
https://www.jmontoro.com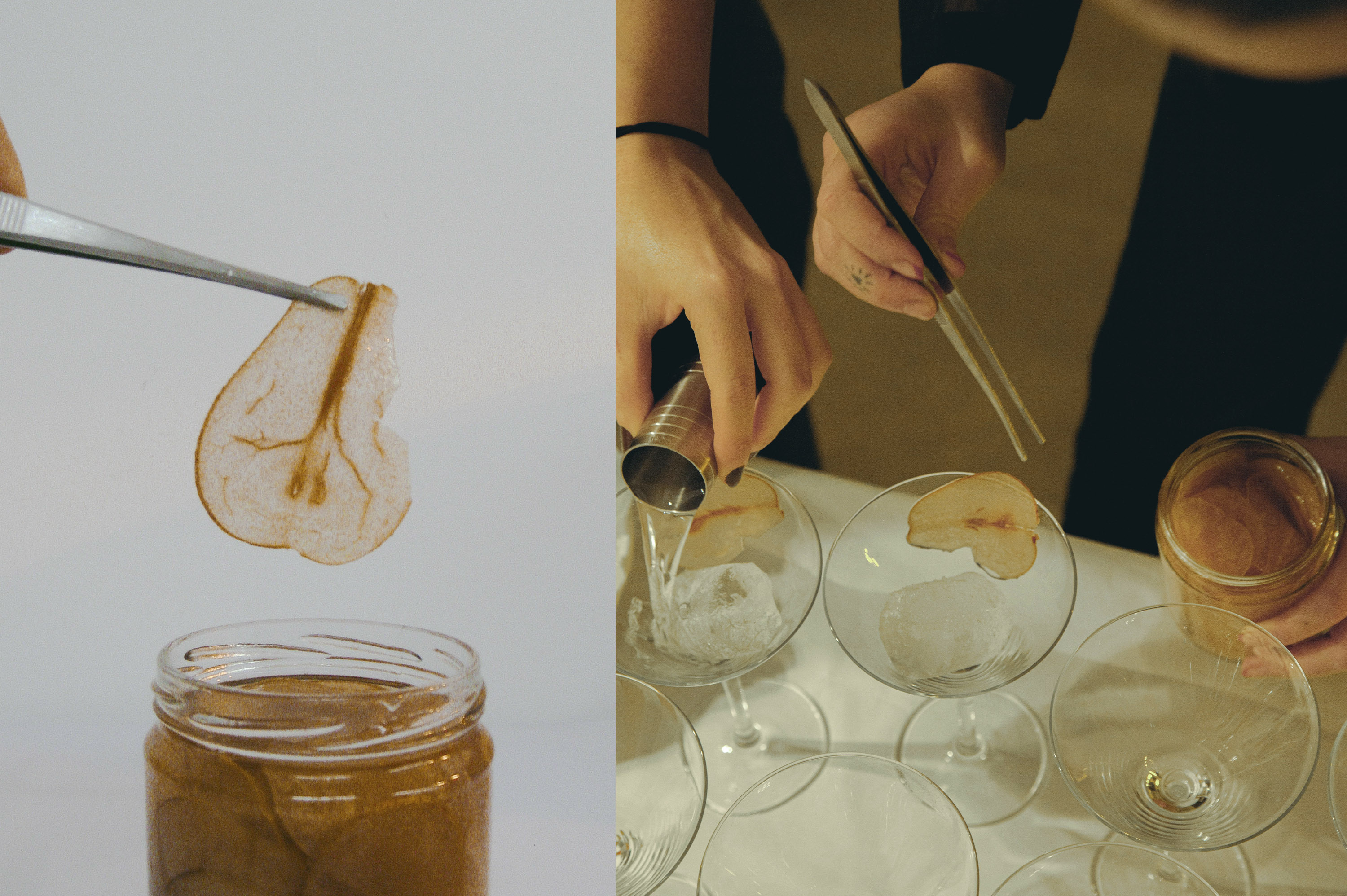 Menu
Welcome: Coliflower, avocado cream, puffed quinoa, crispy kale painting. With flatbread sheets +
Dirty Pear (Sake, pear syrup, pickled pear)

Starters: Miso chawanmushi with soy demiglace and seasonal mushrooms. Paired with Pirita, by Charlotte Allen.
Carrot textile. Roasted parsnip, pickled carrots and sesame and almond cream. Paired with Amber, by Vinos del Viento.

Mains:Leek carcase. Crispy filo, leek confit, leek beurre blanc. Paired with Ancestral,by Mont Rubí.
Serviettenknödel, vegetable broth. Paired with Spatburgunder Trocken,by Ellermann-Spiegel.

Dessert:Yogurt curds, persimmon and quince jelly.


Assistant: Marina Jerez
Photography: Rebeca Sayago
Bread by El Horno de Babette





Other Projects

---
08 / The Carrier Bag
La Hipoteca
June 2023
09 / Ivana de Vivanco
The Ryder Projects
September 2023